Description
Specifications
Post a comment
Build your knowledge and your library with these ten key titles in hyperbaric medicine from Best Publishing Company. Our Hyperbaric Medicine Library provides the perfect foundation library for any hyperbaric clinic, physician's office, or hospital. This collection of varied titles provides a wide scope of information for the hyperbaric technician, nurse, physician, and patient, among others. Increase your knowledge and your interest by purchasing this complete library reference set.
A value of $754 . . . Now Only $639!
This Library Set Includes:
UHMS Hyperbaric Oxygen Therapy Indications, 15th edition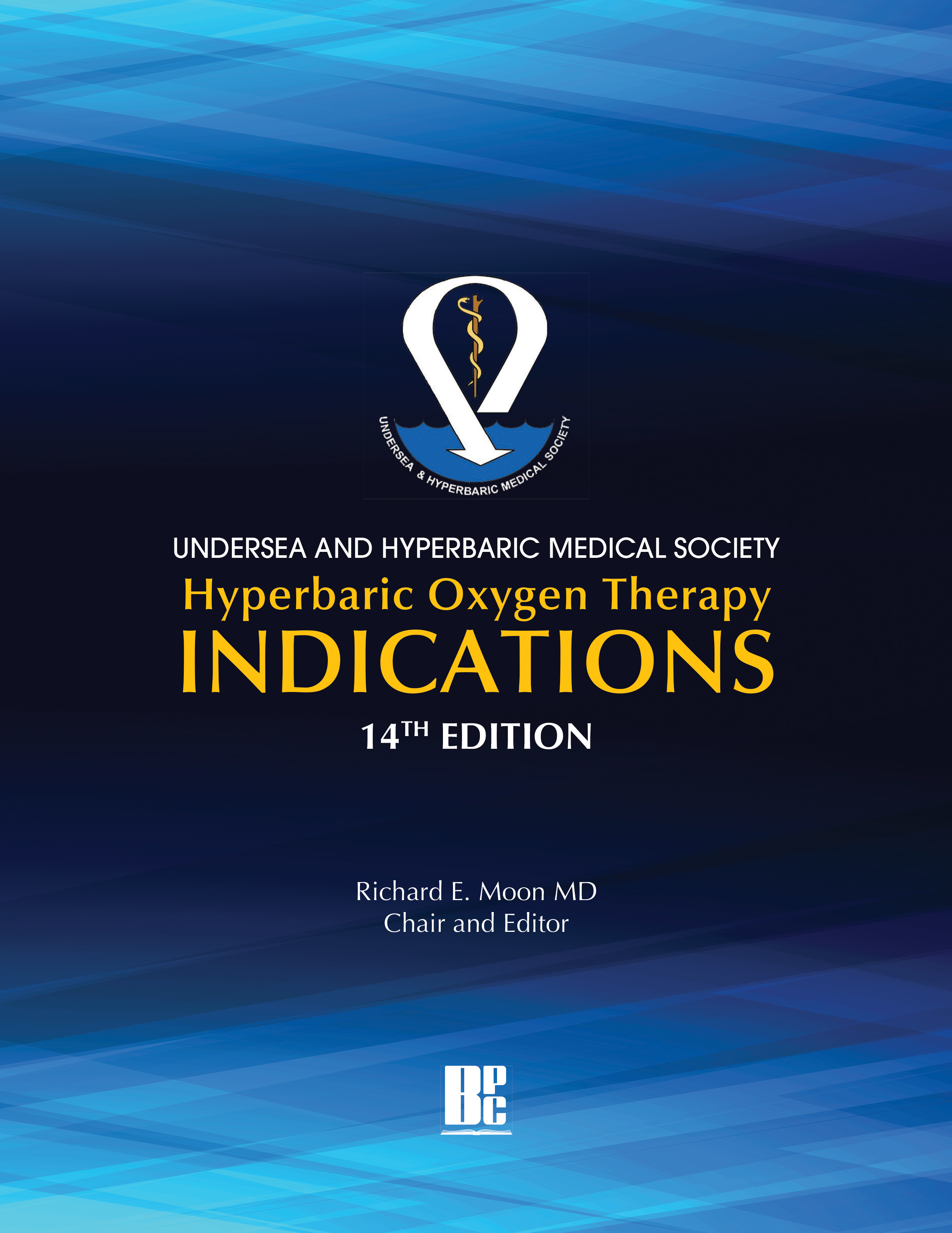 The Undersea and Hyperbaric Medical Society (UHMS) is an international, non-profit organization serving over 2,400 members from more than 50 countries. The UHMS is the primary source of scientific information for diving and hyperbaric medicine physiology worldwide, the breadth of which is illustrated in the triennial report, Hyperbaric Oxygen Therapy Indications. With leading experts authoring chapters in their respective fields, this publication continues to provide the most current and up to date guidance and support for scientists and practitioners of hyperbaric oxygen therapy.
Hyperbaric Oxygen Therapy Indications, currently in its fifthteenth edition, has grown in size and depth to reflect the evolution of the literature on the approved use of hyperbarics from both a clinical practice standpoint and insurance coverage perspective. To date, the committee recognizes fourteen indications.
Additionally, this book continues to be used by the Centers for Medicare and Medicaid Services and other third party insurance carriers in determining payment for HBO2 services.
UHMS Guidelines for Hyperbaric Facility Operations, 3rd Edition
The UHMS Guidelines for Hyperbaric Facility Operations provides UHMS guidelines related to training, responsibility, staffing, safety, and quality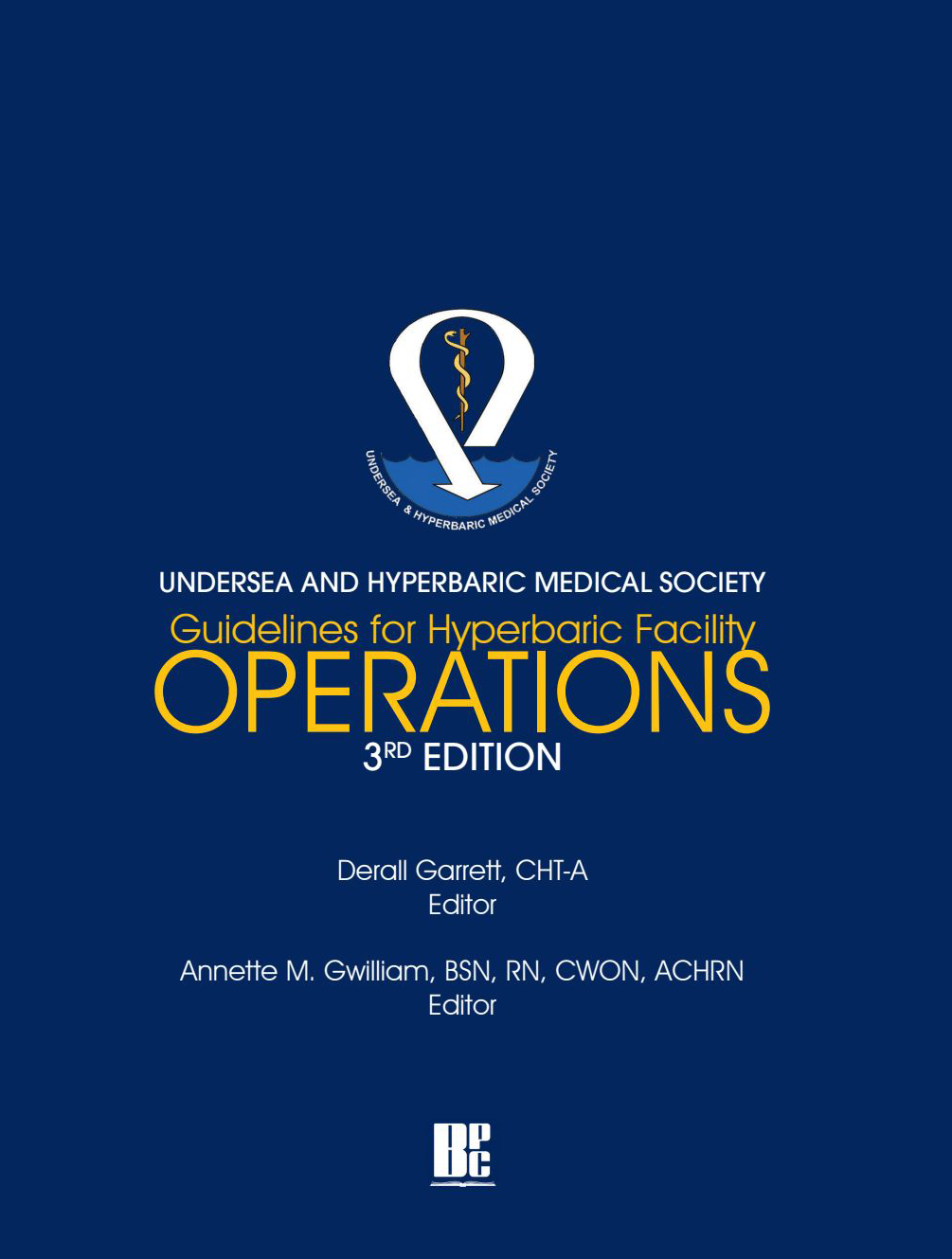 assurance for hyperbaric medicine facilities.
These guidelines are essential for facilities that are new to hyperbaric medicine in establishing best practices. Existing facilities will find this reference indispensable in understanding the current standards and recommendations in maintaining an exceptional hyperbaric program.
Preventative Legal Care: A Practitioner's Guide to Medico-Legal Fitness

Do you know the significant legal risks that you face every day as a medical practitioner? Have you ever considered how you may be able to minimize those medical-legal risks?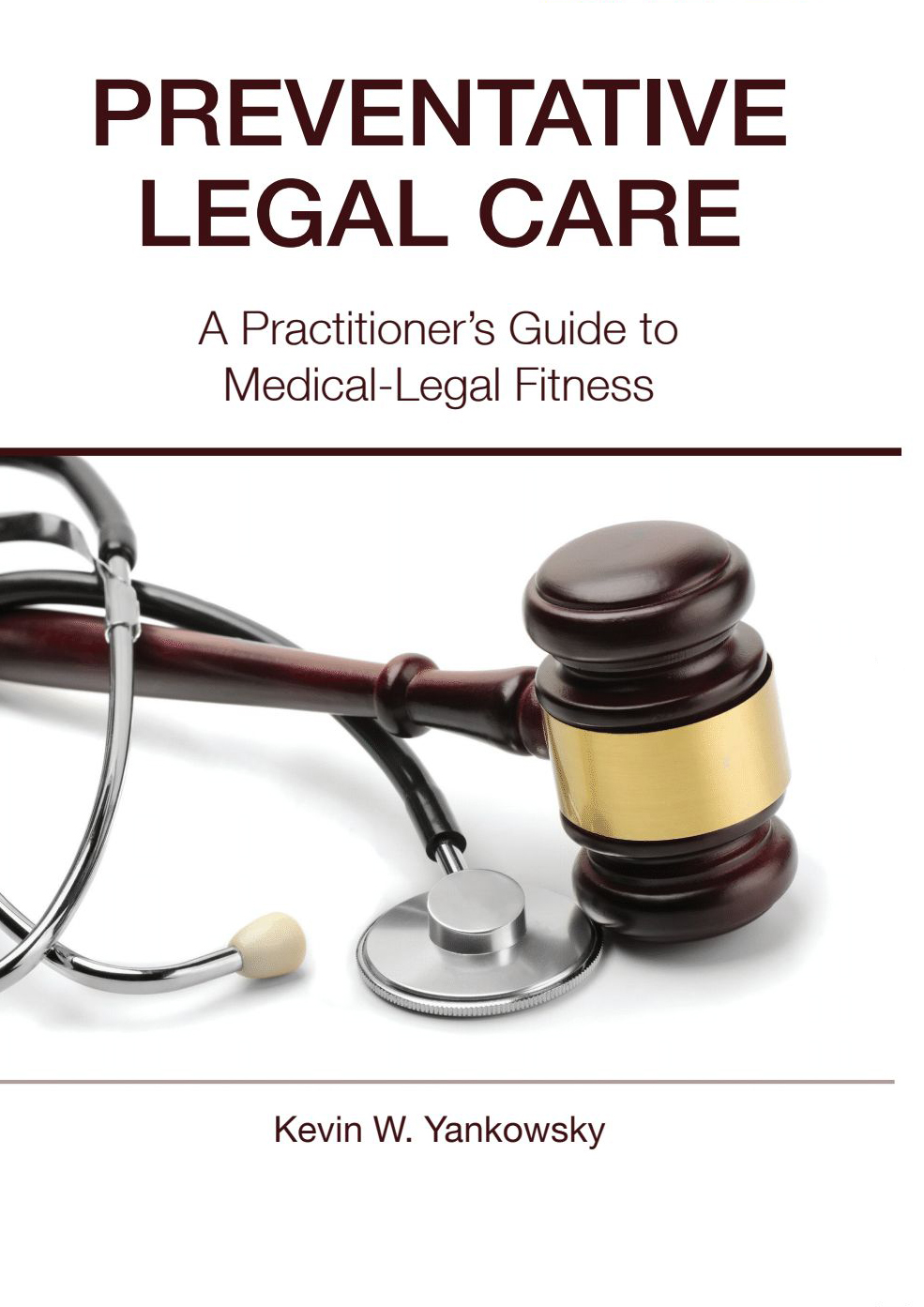 This easy to read book provides practical, real-world solutions to effectively manage and diminish your medical-legal risks. As a practicing healthcare attorney, Kevin W. Yankowsky has represented individual clinicians and healthcare institutions involved in legal disputes of all shapes and sizes. In his over 20 years as a practicing attorney, he has seen providers and institutions pour money into resolving legal disputes that potentially could have been avoided. Institutions focus too much of their time, effort, and financial resources on the costs of litigation defense and the expenses of settlement rather than investing time and resources on medical-legal prevention. In Preventative Legal Care: A Practitioner's Guide to Medical-Legal Fitness, Yankowsky outlines some medical-legal risk factors unassociated with clinical care and supplies practical real-world solutions to recognize, control and minimize, if not eliminate, those factors.
Policy and Procedural Guidelines for Hyperbaric Facilities
Policy and Procedural Guidelines for Hyperbaric Facilities provides needed resource and reference guidelines for new and established hyperbaric facilties. It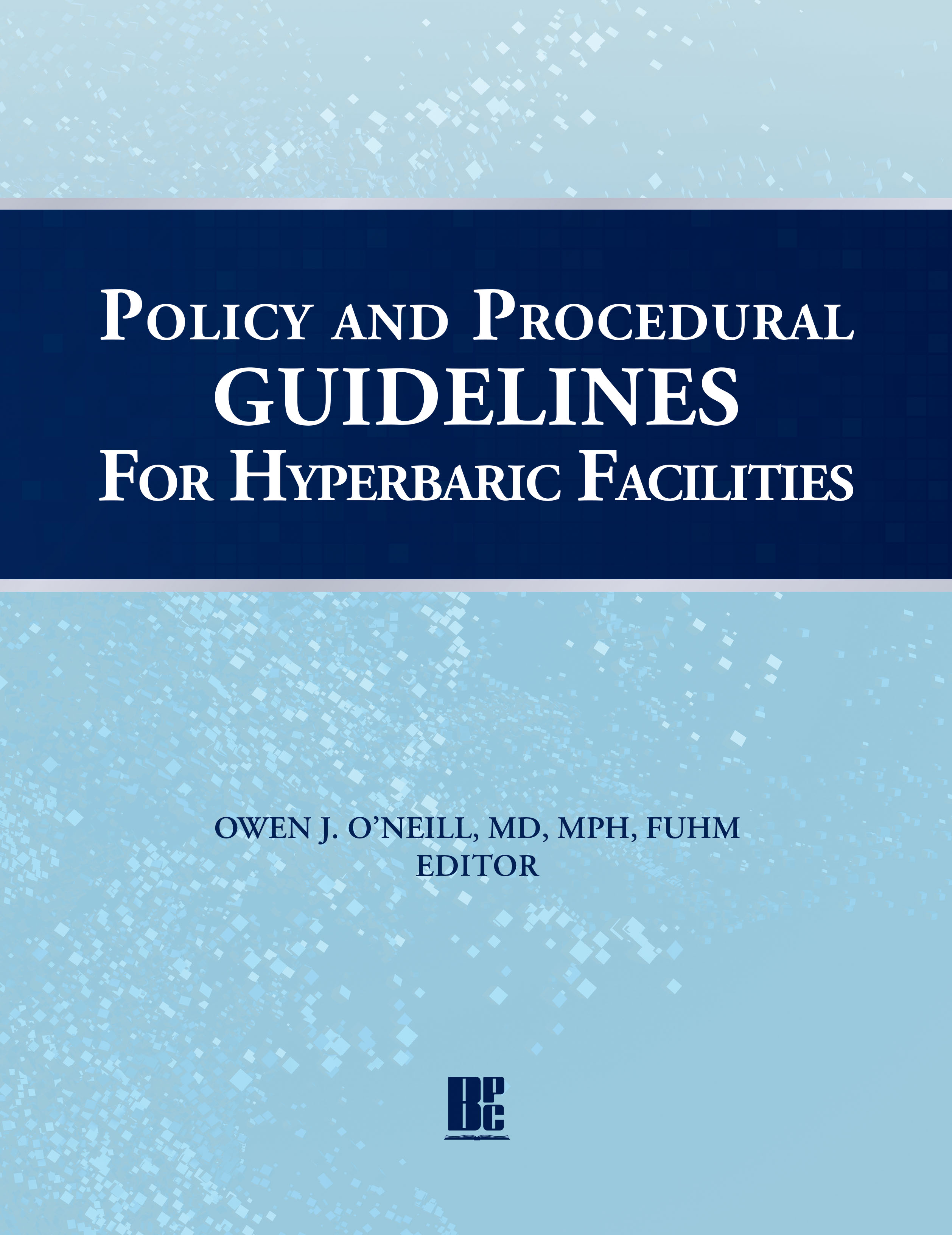 will serve as a reference for the development of new hyperbaric policies as well as customize and enhance current policies and procedures already in place.
Policy and Procedural Guidelines for Hyperbaric Facilities addresses issues of safety and practice for both the multiplace and monoplace environments. It utilizes regulatory guidelines and standards of practice as its foundation. Topics covered in this work include, but are not limited to, governance, administration, emergency procedures, patient care, hyperbaric chamber maintenance, treatment protocols and quality improvement. The appendices include sample forms for both Class A multiplace and Class B monoplace chambers. They are intended to serve as templates for development of hyperbaric unit-specific forms. Also included are acronyms, references, and an index, all specific to hyperbaric medicine.
Hyperbaric Facility Safety, 2nd Edition
This title is a necessity for the preparedness of every wound care and hyperbaric facility. Recent tragic accidents in the national and international hyperbaric medicine community have focused attention on the need for more comprehensive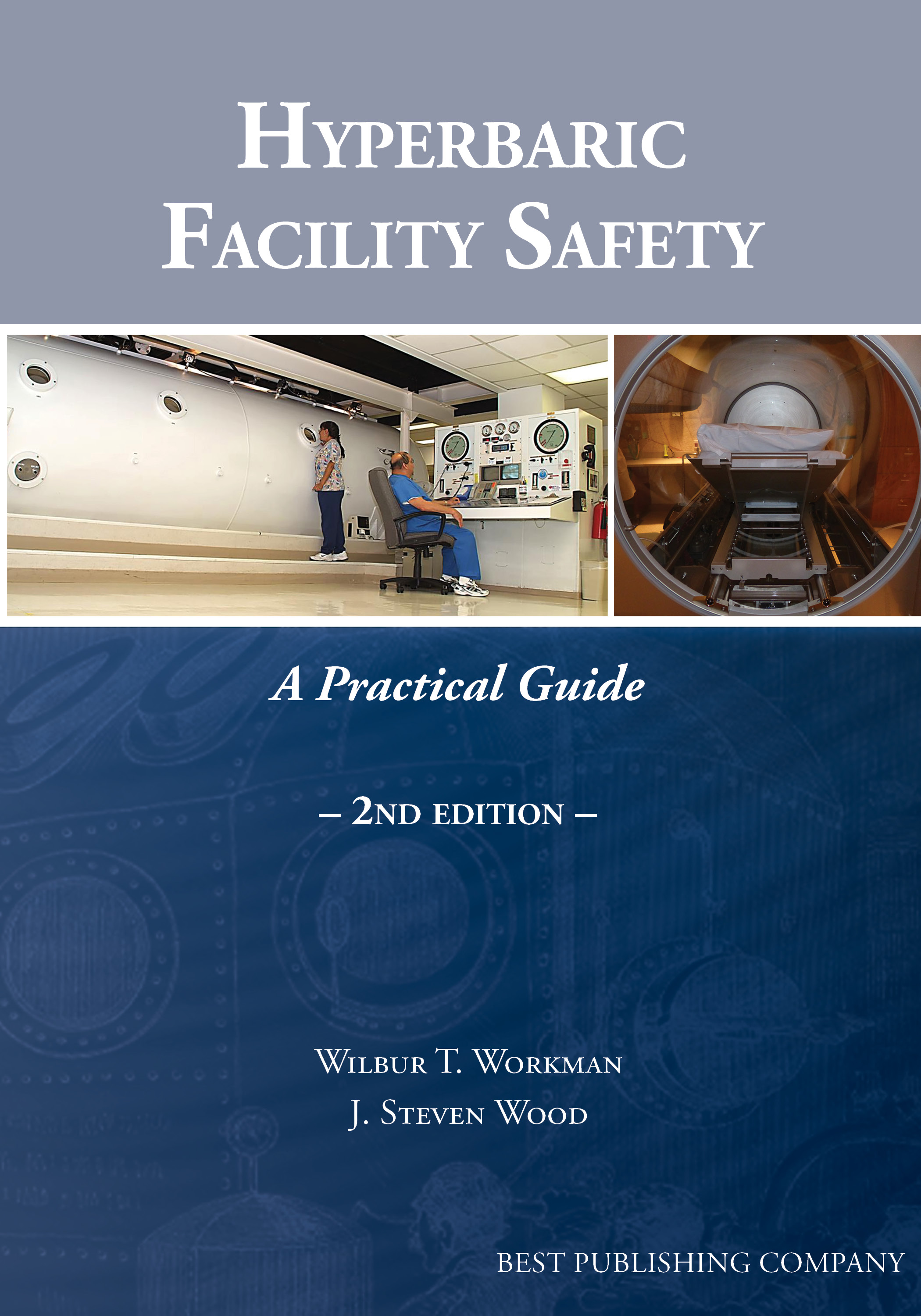 information on this topic. This book will help to reduce liability in the workplace, and will become an integral part of your on-site reference library.
Hyperbaric Facility Safety, 2nd Edition is a complex issue that covers an extremely broad range of topics, including safe engineering design practices, regulatory guidance, training, staffing, maintenance, and operational procedures, among others. This book was written to create a comprehensive document to assist established hyperbaric programs, serve as a safety primer for those developing programs throughout the world, and help cultivate the mindset vital to maintaining a safe environment for staff and patients.
On the recommended reading list for facility certification, the information contained in this book applies to operational and clinical wound care and hyperbaric facilities.
Hyperbaric Medicine Practice, 4th Edition
Widely acknowledged as the definitive reference source of its kind. With contributions from an impressive list of world experts, the material covered in this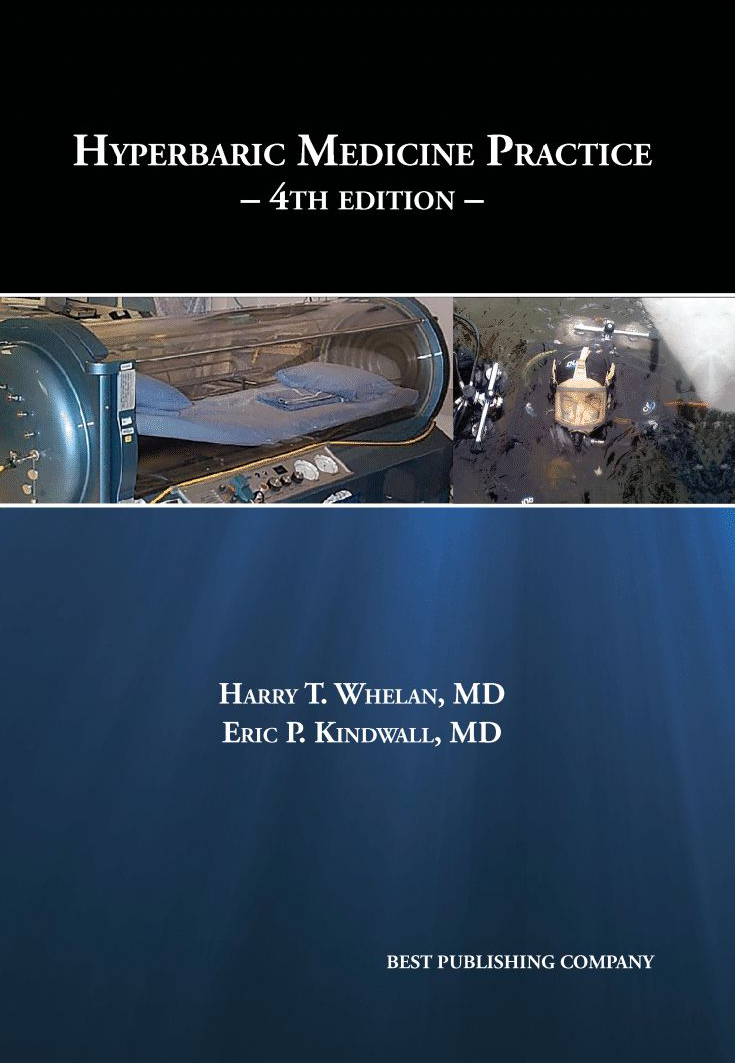 text is authoritative and wide-ranging, and once again combines to solidify this text as the standard in the field of hyperbaric medicine.
About the Editors
Eric P. Kindwall, M.D., a past president of the Undersea and Hyperbaric Medical Society (UHMS), Dr. Kindwall founded Pressure, the UHMS newsletter, and was founding chairman of the UHMS Committee on Hyperbaric Oxygen Therapy. He was former chairman of the Commission on Underwater Physiology and Medicine for the International Union of Physiological Sciences. He retired as a commander from the U.S. Navy Reserve in 1995. Over 90 publications and book chapters in the fields of diving, clinical hyperbaric medicine, and compressed air construction work are attributed to him. In addition, he has consulted internationally for commercial diving companies, tunnel construction companies, foreign navies, and hospitals acquiring clinical hyperbaric facilities.
Harry T. Whelan, M.D., conducted his research with funding and collaboration from NASA Marshall Space Flight Center. Using space based light-emitting diode (LED) technologies developed for growing plants on the Space Shuttle, he now has over fifteen years experience conducting studies on the use of near-infrared light for photodynamic therapy of cancer and, in combination with hyperbaric oxygen, for stimulation of human tissue growth and wound healing, during space flight and for patients here on earth. More recently, he has done extensive research on Combat Casualty Care for DARPA as a principle investigator and is currently conducting research on the use of hyperbaric medicine for stroke patients.
Textbook of Chronic Wound Care
This textbook is a companion reference book for the Wound Care Certification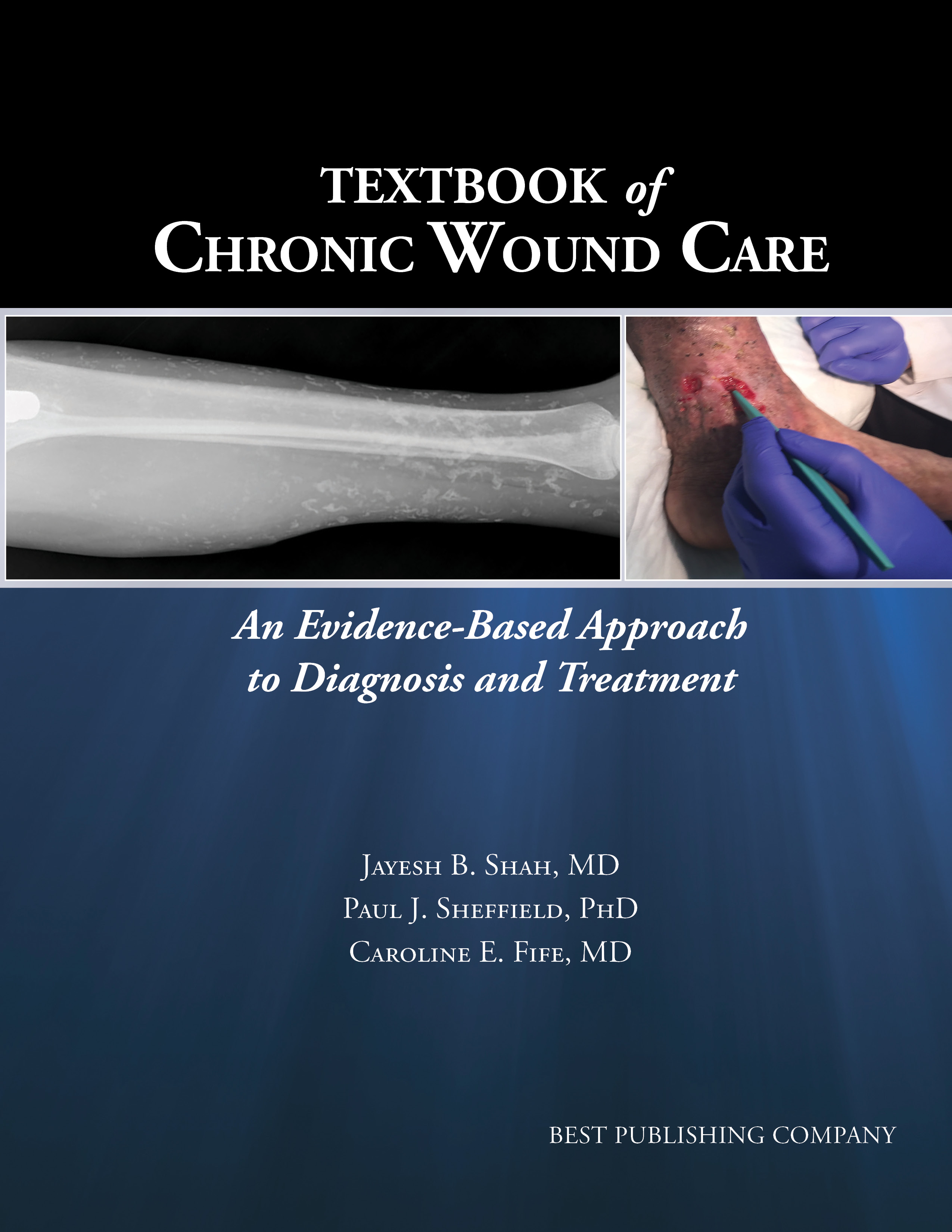 Study Guide, 2nd Edition. This book belongs in the library of every practitioner who treats chronic wound care patients. It proves to be a valuable text for medical students and all health-care professionals - doctors, podiatrists, physician assistants, nurse practitioners, nurses, physical and occupational therapists - in various settings. It provides thorough understanding of the evidence-based multipdisciplinary approach for caring for patients with different kinds of wounds.
This textbook provides the best diagnostic and management information for chronic wound care in conjunction with evidence-based clinical pathways illustrated by case studies and more than 350 pictures in addition to up-to-date information for the challenging chronic wound care problems in an easy-to-understand format.
A value of $754. . . Now Only $639!
(Click the "Add to Cart" button above to purchase)

| | |
| --- | --- |
| | Various |
| | Various |
| | Print books, mix of hard and soft covers |
| | Various |
| | Various |